K-pop Idol industry is a competitive market to survive. With more than 100 idol groups debuting in the past 10 years, it is crucial that each group imprints a certain image in the crowd's mind. Like a keyword that describes who they are in one word.

Image Source – DailyMotion
However, it is hard to achieve this only with their music. Nowadays, K-pop idols need to be good at sports, acting and have a sense of humor, among other things. In one short sentence, K-pop idols need to be multi-entertainers. These multi-entertainers appear in variety shows and dramas to get a chance to advertise themselves and their groups, so that their music promotions will flourish.
But do all idols get a chance to appear in variety shows and dramas? No, if life were that fair, everybody should go and become a K-pop idol.
This is where the tactic I'd like to call "luring the dragon with a goat" comes in.
What I mean by this, is that often groups choose one 'multi-talented' member to step in to advertise his or her group. He or she appears in various commercials, variety shows, and if lucky, dramas, and generates publicity. Once he or she gains recognition, they participate in the group's music promotions, most of the time as the center member, so that the whole group can gain recognition as well.
This seems a bit unfair, because as anyone who is familiar with K-pop industry would know, even though one member is doing all the work, the income divides evenly with the rest of the group members, at least for the first few years after debut. This is why these particular idols are often called the "head of the group" because they single-handedly bring in earnings, as well as publicity for the group.
Today, I want to talk about a few examples of k-pop idol groups that used this "luring the dragon with a goat" tactic. I will talk about groups that (in my opinion) failed and succeeded using this tactic, and also on-going group that is trying it out. At the end, I will be adding my personal opinions on what needs to be done for this tactic to work.
1. Miss A Suzy – failed case of a "goat"

Image Source – Osen.mt.co.kr
Suzy could possibly be the epitome of the member who became a "goat" for her group, Miss A. What's ironic is that, in my opinion, Miss A did not need any members to be the "goat." They had a great start when they debuted with 'Bad Girl Good Girl' in 2010. They proved themselves as the 'Monster Rookies' by winning their 1st music show win within 20 days of their debut and taking the Best New Female Award at the Mnet Asian Music Awards in the first year.
However, for some reason, JYP Entertainment suddenly decided to support Suzy in her acting career. Suzy debuted as an actress through 'Dream High' in 2011, and rapidly expanded her area to the film industry by starring in 'Architecture 101' in 2012. The acting career definitely helped Suzy to establish a certain image in the public's mind. With her natural looks in 'Architecture 101,' she received a nickname of "Nation's First Love." Afterwards, Suzy appeared in various commercials using the most out of this nickname she gained.
While the public went Suzy-craze, they started to forget about the rest of Miss A members. Soon enough, rumors about Suzy being isolated from the group started to circulate the web, when it was revealed that Suzy did not attend, or wasn't invited to Miss A member Jia's birthday. Starting with 'Touch,' the gap between each Miss A comeback slowly started to get bigger. Finally, with 'Colors' as their last album, Miss A announced their official disbandment in December, 2017.
Indeed, Suzy helped Miss A gain fans. The only problem was they were fans of Suzy in Miss A, but not Miss A itself.
2. BTOB Sung-jae – successful case of a "goat"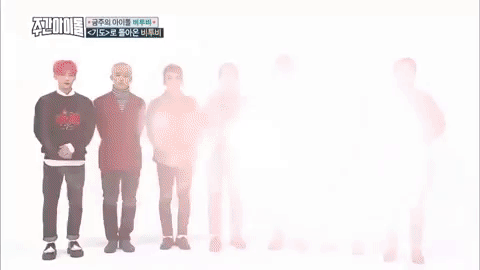 Image Source – Giphy.com
BTOB debuted with 'Insane' in 2012. They received attention for their powerful vocals, but not enough to win 1st place. They continued to promote their voices, even being nominated for 1st place in 2014, but to be a K-pop idol, they needed more than just good singing abilities. That's when Sung-jae decided to step in.

Image Source – Giphy.com
Sung-jae started his acting career with 'Plus Nine Boys' in 2014, and continued to 'Who Are You: School 2015,' when the crowd finally started going crazy over him. He continued his entertainment activities by partnering with Red Velvet Joy in 'We Got Married' in 2015 and finally, 'Guardian: The Lonely and Great God' in 2016. With his great acting skills, he gained a nickname of 'Acting-dol' (idols who could pass as an actor).

Image Source – tvN's 'Guardian: The Lonely and Great God' Screenshot
BTOB started to taste fame as they received their first ever win with 'Way Back Home' in 2015, on MBC's Show Champion. Since then, BTOB had nowhere to go, but up. They continuously took trophies for their following promotions, and members started to participate in solo activities. Hyunsik and Il-hoon took their great producing skills and produced their own music, Chang-sub and Eun-kwang to musical industry, Min-hyuk to acting career, and Peniel with photography and YouTube. Now, BTOB has doubled and tripled the size of their fandom, receiving love and attention from Muggles as well. (People who are foreign to the k-pop idol culture are referred to as "Muggles")
BTOB just marked their 6th year together on March 21, and they seem to be on their way to break the "curse of 7 years" (the usual contract for idol groups last only 7 years, unless they extend the original contract, which happens rarely).
3. DIA Jung Chae-yeon – We shall see "goat"
Jung Chae-yeon first debuted with DIA in 2015, but soon left the group with another member, Cathy (real name Ki Hui-hyun) to participate in Mnet's survival program 'Produce 101.' Cathy unfortunately did not make into top 11, but Chae-yeon received much love from the public and scored into I.O.I. Chae-yeon seemed to be doing well with I.O.I promotions, until she suddenly decided to rejoin her former group, DIA.
Image Source – Sevpoots Online Gallery
Ever since Chae-yeon's return to DIA, everything seemed to evolve around her. Chae-yeon stood in the center of all promotions, including album covers, music shows, as well as variety programs. It came to the point where the public started calling DIA, 'Chae-yeon and the girls' (from Seo Taiji and the Boys).
Maybe MBK Entertainment started to recognize this as a problem, for they decided to send two DIA members, Yebin and Somyi, to KBS 'the Unit' program.
'the Unit' was a similar concept to 'Produce 101,' except they intended to "reboost" idols who have already debuted, but were not very successful. In a way, Yebin and Somyi were the perfect candidates for this program.
However, this caused even a bigger controversy, when Yebin and Somyi revealed their reason for appearing in 'the Unit.' They expressed their complaints and said they were upset with Chae-yeon receiving all the spotlight. The public said it wasn't very professional of them to share such a private matter on broadcast.
The irony is that even with Chae-yeon working her feet off for DIA, the group still hasn't had the great breakthrough they wished they did.
Image Source – Newsen.com
Whether Jung Chae-yeon will pull off Miss A Suzy or BTOB Sung-jae, we will see.
So what made some groups succeed with this tactic and others, not?
In my opinion, in order for this tactic to work, these groups need to keep in mind 3 things.
First, they need a keyword that describes the group as a whole.
Although I only mentioned BTOB in this article, many other idol groups have also succeeded using this tactic. This includes groups like Sistar with Bora and Apink with Eun-ji. I believe these groups could succeed because they had a keyword that described the members altogether. For example, Sistar was known as the "atheletics-dol" or "health-dol" for their perfect bodies, and BTOB for having "7 vocalists and 7 rappers." Because these groups had a keyword describing them as a whole, it gave a reason for the public to love all of them, together. This means that the so-called fans actually fan over all members. Miss A did not have a nickname for the group. Suzy gained nicknames such as "Nation's First Love," but what about the rest of Miss A members? I personally think this resulted in the disruption in the fandom of Miss A, for people fanned over Suzy, only.
Second, the agency needs to support each member to pursue their individual desires.
I think one of the main reasons BTOB actually could thrive was because the company knew exactly what each member's strengths and interests were. Sung-jae did play a big role in bringing spotlight to the group, but it's more important what has been done after that. Therefore, as the group gained recognition, CUBE Entertainment started pushing members into individual directions. Members could explore different areas such as musical, music production, photography, and even YouTube.
Another example is Sistar. Hyorin went into solo promotions, Bora with variety shows, Dasom with her acting career, and So-you as the "duet/featuring queen." By letting each member do their own things, they could stand on their own without being just "someone's group mate."
Lastly, the members need to put effort into maintaining their friendship.
It is easy to be involved in a rumor when you are a public figure. One of the common rumors of idols is a member being isolated from the rest of the group. I can only imagine how hard it would be watching one member to thrive while the rest of the members don't. However, it is important that members need to support one another on each member's achievements. Because if each member can't trust or lean onto one another, who can you trust?
I am fully aware of that tactics like this are somewhat necessary to survive in this competitive market. However, what is more important is that the group says "forever," because nothing hurts k-pop fans more than the news of a group's disbandment.
By. Dasol Kim
Disclaimer: The opinions or views contained in this article may not represent the opinions or views of Kpoplove, The Korea Daily, its employees, agents or affiliates.